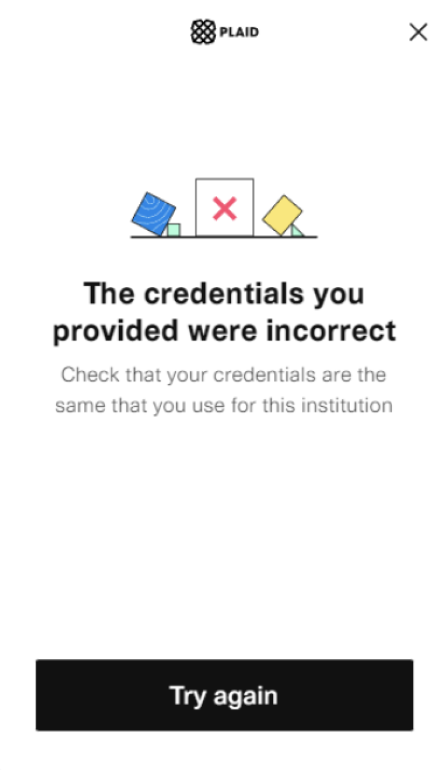 If you see this error message, there can be a few things affecting the login credentials you've entered.
Typos. They happen - even to the best of us!
Maybe you're using a new keyboard or your finger slipped; first and foremost, try again and give it another go.

Confirm your username and password are correct by logging into your financial account directly - ideally from a secure web browser (as opposed to a mobile app).

If you utilize a password manager that auto-fills these fields for you, double-check that the information stored is up-to-date, and try re-entering your username and password manually.

Some mobile devices, in particular Samsung/Android devices, can add an extra space upon autocomplete. Please check and delete any extra spaces before submitting.
The wrong financial institution was selected. There are many financial institutions with similar names, and selecting the wrong institution will result in an error noting that your credentials are incorrect.
Go back a step and utilize our search tool to find all available institutions associated with your keyword(s).

When viewing the list of financial institutions, take note of any state codes (e.g. CA for California), logos, or any website URLs that help distinguish one institution from another.

We have multiple options for some institutions based on the account type you have (e.g. Personal banking vs Business banking), so make sure you're selecting the correct one.
You've changed your username with your financial institution. This sometimes results in an error if you've previously connected your financial account to your app via Plaid.
If your username has changed since you initially connected your accounts and you attempt to update it within an application, Plaid communicates with that application to let them know. With this information, the application should prompt you to create a

new

connection by reconnecting your financial institution to the app from scratch.

If this is not happening as expected, you'll need to reach out to your app and ask them to assist you in creating a new connection with your financial institution and your new username. Some apps may even allow you to remove and re-add the connection yourself.
Your financial institution made an update to their system. This can happen in the form of launching a new website, upgrading the online banking system, and more.
If you can recall, take note of any website URL changes for your financial institution's account login pages (e.g. a change from

www.bank.com/login

to

login.bank.com/sign-in)

or any recent email notices about a system upgrade.

If necessary, reach out to your financial institution to confirm if they made a technical change.

If you know this "username or password incorrect" error only began occurring via Plaid once this change or update happened with your financial institution, then that may have something to do with it!

We're likely already aware of and investigating this issue, but you can feel free to reach out and confirm.
If you're unable to resolve your error and you'd like a closer look into your specific connection:
Please reach out to the app or service where you're attempting to connect your financial accounts. They can look up your account in their system and investigate all corresponding connection attempts via Plaid.

If you are attempting to use the

Plaid Portal

, then you can log in to your account to get in touch.
As a reminder, Plaid does not create an account about you when you connect or attempt to connect your financial accounts to an app or service.