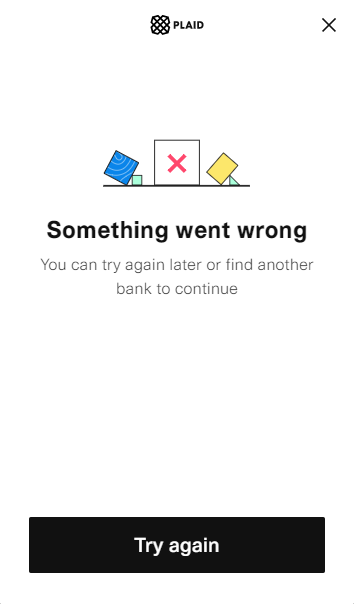 This error message indicates that Plaid was unable to process the request for your connection. There are many potential causes, such as the settings used by an app when they launch your connection or a Plaid system error.
While we are notified and monitor all of these errors in aggregate, we cannot provide a general answer for why this might have occurred when connecting to a particular app or service.
If you're seeing this error, here's what we recommend:
Start your connection attempt over from scratch.
Consider waiting a few hours or til the next day to try again. In some cases these errors can resolve themselves.
If the error persists and you'd like a closer look into your specific connection:
Please reach out to the app or service where you're attempting to connect your financial accounts. They can look up your account in their system and investigate all corresponding connection attempts via Plaid.
If you are attempting to use the Plaid Portal, then you can log in to your account to get in touch.
As a reminder, Plaid does not create an account about you when you connect or attempt to connect your financial accounts to an app or service.